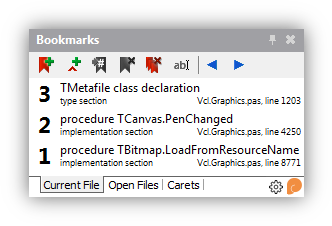 This is a minor update to Bookmarks, following from version 1.3 released three days ago. Beyond all the additions in version 1.3, this version adds or fixes:
New feature: Press F2 to rename a bookmark in the code editor. In other words, if there is a bookmark on the current line of the code editor, press F2 to show the name dialog just like selecting the bookmark in the list and pressing the Rename toolbar button. This shortcut can be changed using the new customizable shortcut support added in v1.3.
Bugfix: The shortcut controls in the settings were too narrow to display the full shortcut on German editions of Windows.
Bugfix: the hint text "Press Ctrl+B to place a new bookmark" displayed on the dockable bookmark form when the bookmark list was empty did not change to reflect customized shortcuts.
Change: small optimizations, especially for bookmarks in C++ files.
View the full release notes here.
I hope you find Bookmarks a useful and productive tool!
Bookmarks is free. You are welcome – in fact encouraged :) – to tell others about it.  If you do, please link to the official Bookmarks page. Enjoy!
Discussions about this page on Google+