Don't forget – a 20% discount if you buy Navigator before July 31 using coupon code JULYSPECIAL. Also, Navigator v1.1 onwards now supports Delphi XE and XE2, meaning all XE versions up to XE8 are supported.
I'm happy to announce Navigator 1.2. This is primarily a bugfix release from version 1.1, and is a recommended update.
Fix list:
Turning the minimap off disabled the checkbox to turn it back on again
The first time you start Delphi, a dialog appears asking for some basic info, and if you didn't fill out the information and tried to close it asked if you were sure. That confirmation dialog had only an OK button, not Yes/No buttons. (Clicking OK still let you close the dialog without entering information.)
Bright green text in the code editor theme did not draw correctly in the minimap preview hint (bright green was a colorkey)
The Go To window opened on the primary monitor only, even if Delphi was on a second monitor
There was no way to access your user info (eg email address) once entered. You can now access this through the Delphi Options dialog, Third Party, Parnassus, and click Edit Your Info.
The colours the minimap uses to indicate the visible area and highlight the items in the Go To window are now customizable. This was in v1.1, but was omitted from the release notes.
Don't forget that if you buy on or before July 31st using the code JULYSPECIAL you get 20% off.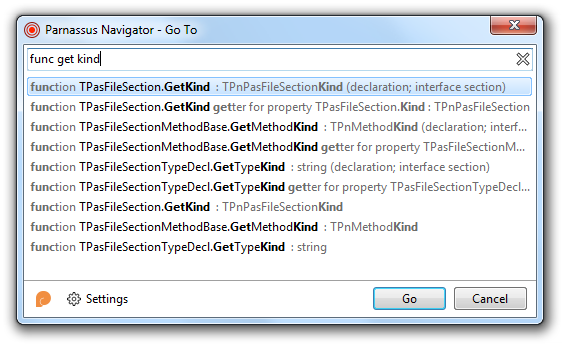 Discussions about this page on Google+